Known as the most satiating macronutrient and a great immune system and metabolism booster, protein plays a critical role in a healthy diet. Most people know that chicken, beef, and seafood contain protein, but let's take a look at 5 foods you may not realize are actually high in protein!
1. Greek Yogurt
Greek yogurt is a great source of probiotics, but seeing as every 100-gram serving contains 10 grams of protein, it's also a great source of protein! Although Greek yogurt is usually eaten as a breakfast food, you can also use it as a replacement for sour cream, put it in smoothies, add it to muffin mixes, or mix it into mac n cheese.
2. Nuts
If you're looking for a budget-friendly protein option, add nuts to your shopping list. Peanuts contain 26 grams of protein per 100 grams and almonds contain 21 grams of protein per 100 grams. If you're allergic to almonds, you can eat sunflower seeds or sunflower butter instead. When the budget is tight and you need to cut back on meat and plant protein, nuts and nut butter are great alternative protein sources.
3. Pumpkin Seeds
Did you know that pumpkin seeds contain 19 grams of protein per 100 grams? Pumpkin seeds are also a good source of several critical vitamins and minerals. In fact, 1 cup of pumpkin seeds contains: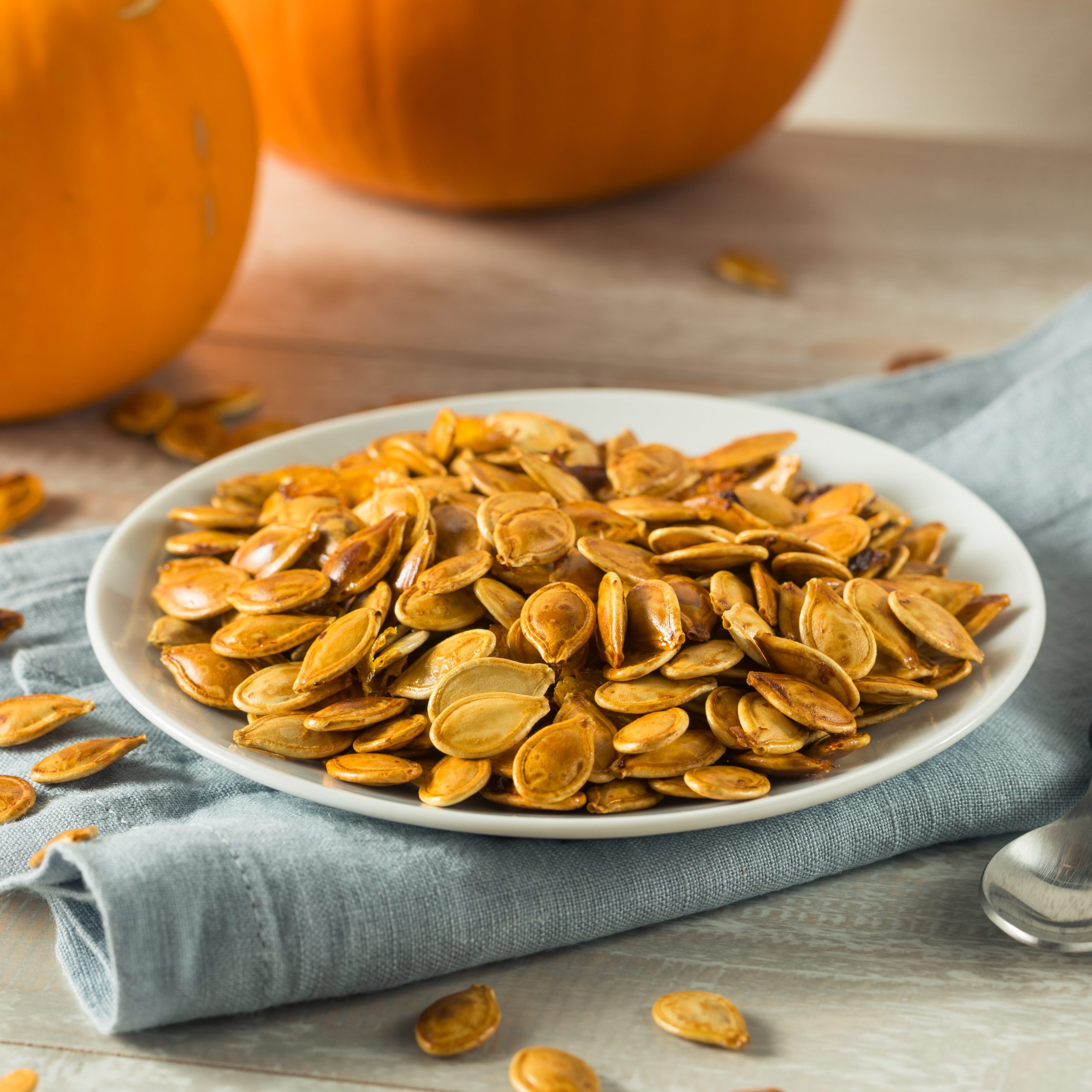 Vitamin A: 1.9 ug
Riboflavin: < 0.1 mg
Niacin: 0.2 mg
Vitamin C: 0.2 mg
Folate: 5.8 ug
Calcium: 35.2 mg
Potassium: 588.2 mg
Iron: 2.1 mg
Magnesium: 167.7 mg
Zinc: 6.6 mg
Phosphorus: 58.9 mg
Copper: 0.4 mg
Manganese: 0.3 mg
4. Cheese
Say cheese! Cheese is one of those fun proteins, easy to slip into a variety of meals and snacks. When it comes to protein, there are two kinds of cheese that stand out. Part-skim mozzarella contains 24 grams of protein per 100 grams and parmesan contains 36 grams of protein per 100 grams. If you're sensitive to lactose, you can still get some of your protein from cheese, as there are some amazing lactose-free cheeses on the market now such as Cabot Cheddar Cheese.
5. Hemp Seeds
Hemp seeds might sound too "crunchy" or may even make you nervous. But hemp seeds offer a host of health benefits. According to WebMD, "Hemp protein comes from the cannabis plant and is an excellent source of plant-based protein. Hemp seeds don't contain any cannabidiol (CBD) or delta-9-tetrahydrocannabinol (THC), the psychoactive compound found in marijuana." Hemp seeds are safe to consume and are an excellent source of protein, containing a whopping 32 grams of protein per 100 grams!
Whether you're trying to lose weight, eat healthier, or build muscle, incorporating more protein into your diet doesn't have to be complicated or expensive. Get Fit Five Meals today!